Pastors Council
Sam Stalnaker
Terrance Watts
Mike Kirkland

Pastor Jason Justus, Lead Pastor
email: jasonvols22@gmail.com
Pastor Jason has been in full-time ministry for over 23 years. Pastor Jason served as a youth pastor for 13 years and has served as a senior pastor for 10 years. God led Pastor Jason to Madison, Florida in February 2014.
Together with his wife Amber and their five children Peyton, Makenzie, Emmalee, Josiah and Madison, they are amazed at God's faithfulness. Since coming to Madison Pastor Jason casted a vision, RICH. REACHING the lost, INVESTING in families, CHANGING the world, and HELPING the hurting. They have seen God fulfill His promises as Madison has grown and they continue to enlarge their vision.
Jason and Amber love God, love others, pursue excellence, and truly enjoy life while encouraging those around them to do the same. Their heart for people has cultivated a true family at Madison Church of God.

Pastor Jason is an ordained Bishop and has heavy roots in the Church of God.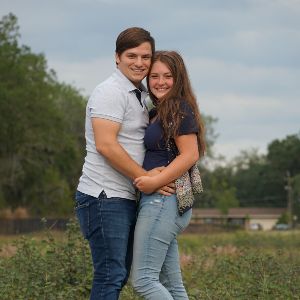 Joshua and Brianna Daniel, Youth Pastor
phone:
850-973-3339
Email: jdkeys99@gmail.com
Josh and Brianna Daniel are the youth pastors for Echo Student Ministries. They have grown up in ministry together and have served in various capacities. They have done street evangelism, gone on mission trips, and have done kids ministry together. Pastor Josh has also served as a worship leader for 5 years in Mulberry. Throughout all of their years in ministry, God has cultivated a love for students of all ages. Together, they are excited to empower the students of Madison to love others, grow their relationship with God, and serve their community with their God-given gifts.
Savanna Mancil
Phone: 850-973-3339
email: cogmadison@gmail.com
Savanna Pitts is the Children's Pastor for Madison Kids. She has over two years of children's ministry experience
working with a wide age range. Savanna spent her childhood surround by ministry, which built a desire within her for ministry. At age 8 Savanna lost her youngest sibling which sent her life spiraling into depression and pain. Although
she suffered great loss growing up, God cultivated her sorrow into a passion to help children hurting like she was.
Her goal is to raise up every child to stand on the word of God and maintain their child like faith in every situation.